Bachelor of Business Management with a major in Marketing
Major marketing companies are constantly looking for spirited commercial staff or marketing people. Are you flexible? Do you feel that you have a commercial talent and that you have good communication skills? Do you have a keen interest in the exciting world of marketing and communications, distribution, sales, event management and international business? Then you will love our Marketing Major.
The Bachelor Business Management, what does it entail?
Magic with numbers

Training in business economics

Strategy and analysis

Organisation is your talent
We offer a practice-oriented training but we always have an eye for the strong theoretical underpinnings. You'll develop a broad range of skills in the field of marketing (including e-marketing), ICT and communication in foreign languages. We also encourage our students to develop excellent social skills to strengthen their ability to establish business contacts.
From general to more specific
Our marketing training has three critical cornerstones: specialist marketing study, foreign languages and computer science. The specialist study covers everything ranging from broad marketing to very specific marketing niches. Business cases support everything we teach. Guest speakers, conferences, company visits, workshops and projects are all part of our training. Moreover, according to your interests and future plans, you can take a number of electives.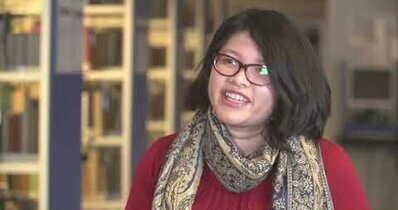 What will you learn?
Bachelor of Business Management with a major in Marketing is a 3-year daytime "on campus" programme, containing 180 ECTS credits.
Follow a real lesson
The best way to get to know our university college and our courses is of course ... to follow a real lesson, together with real students. Sounds good, right?
You can review one or more lessons and experience how lessons are really taught at our university college. You also get a real picture of the students who are following the study program you are interested in.
Why choose Odisee University College?
Our teachers often come from the business world or are even still active in it. This means that they are up to date with the latest innovations and can explain the subject matter in a very practical way, with clear examples.
Aurelie Veldeman
Business Management student
What can you do when your studies are finished?
As a marketer you're always looking for new ways to satisfy your target group's needs and to market products or services. You will advise on new markets and products. You take care of smart communication campaigns and other ways to make a product or a service desirable. Marketing and sales tasks often go hand in hand. One thing is certain: the job never gets boring.
You can apply for
Marketing and sales positions

Internet marketing jobs

Brand / Product Manager vacancies

Assistant Event Manager jobs

Positions in sales
Or do you want a Master's degree?
The Master of Business Administration (MBA) from KU Leuven Campus Brussels is a one-year Master's programme taught in English (60 ECTS). It has an international focus and is designed to provide you with academic knowledge as well as hands-on expertise, enabling you to be successful in international management positions. All candidates for a Master in Business Administration must elect a major programme: International Business Management, Business Information Management or International Relations.
On completion of the B.B.M. you can also apply for admission to one or two year master programmes throughout Europe and the US. More information? Contact your student counsellor or the programme coordinator tom.kestens@odisee.be.
Convinced? Or do you need some more info?
Our coaches are ready
Still not completely convinced? Download our brochure or ask your question to one of our coaches.