Study spaces
On our campuses you can make use of the study spaces on campus and in the campus environment, both during the academic year and during the exams.
There are rooms with different purposes. Discover below which types.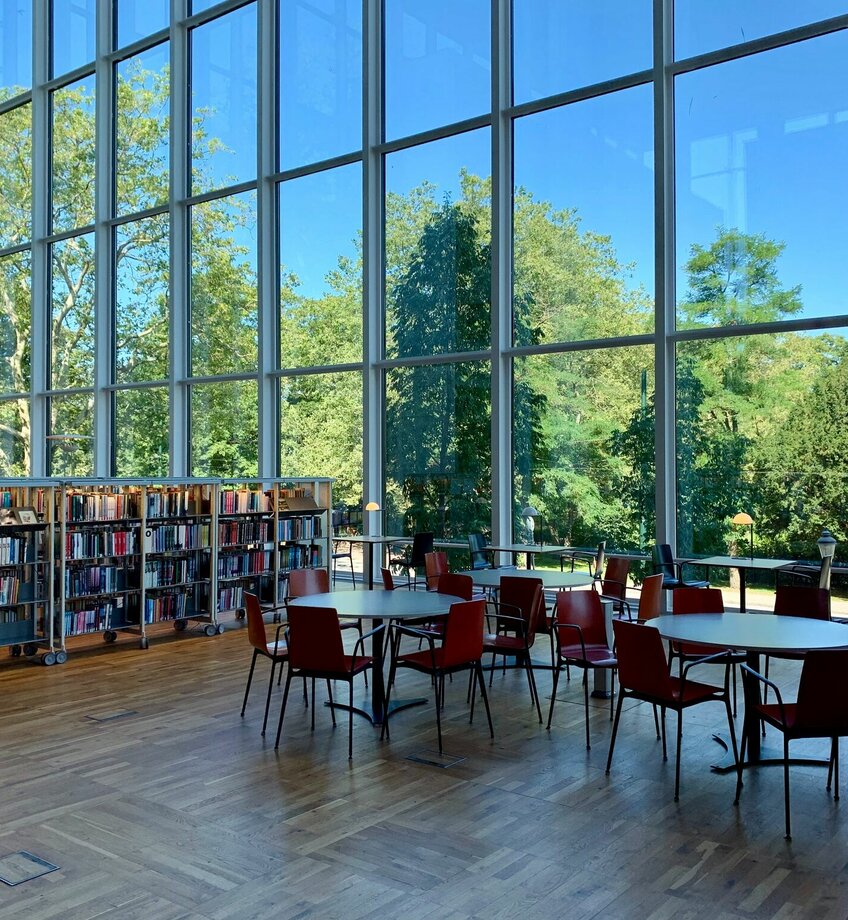 Discover the use
Quiet study spaces
If you are in need of a quiet space to work on your own, this type of study space is for you.
Group work
Work with your fellow students in the rooms set aside for group work. You can also practice a presentation or make other preparations that cannot be done in silence.
Take a class online
Students in a flexible program with a combination of on-campus and online classes may take an online class in certain areas.
Library
Each campus library has a physical and digital collection tailored to all the courses (graduate, bachelor, master and continuing education) given on this campus.
Discover here the opening hours and location of the library of your campus.
Offer of study spaces per campus
Check out the offerings per campus below.
Op campus Aalst kan je studeren of werken in de cafetaria, de bib of het leercentrum.
Studentenrestaurant: je kan vrij plaatsnemen.
Volg je een online les of bekijk je een video of opname? Gelieve dan je koptelefoon te gebruiken zodat andere studenten niet gestoord worden.
Leercentrum: in het open leercentrum kan je terecht om rustig te studeren of om samen te werken aan groepsprojecten. Je vindt het leercentrum terug aan de hoofdingang van het gebouw, voor het onthaal rechts. Je kan er vrij plaatsnemen.
Openingsuren leercentrum: Maandag tot donderdag: 8u tot 22u; Vrijdag: 8u tot 16u
Bib: alle info voor werken of studeren in de bib (openingsuren, reservatie...) kan je hier vinden.
On campus Brussels there are study rooms that are updated daily according to the occupation of the campus. Each day you can find the study rooms on the screens in the entrance hall of the Hermes building. 
Rooms are provided for working in silence and rooms that you can use for group work or taking online lessons.
Where can I study in silence?
In the rooms published on the screens in the entrance hall of the Hermes building.
In the campus library: Monday to Thursday from 9 am to 6 pm, on Friday from 9 am to 5 pm.  
The collaborative learning rooms (C-0.5-04 and C00-01) are open daily from 8.30 am - 8 pm, when there is no class. To check whether there is class, you can scan the QR code at the classroom. After 5.30pm, there is no class in the collaborative room and you can use it anyway. 
Where can I follow online lessons?
In the rooms published on the screens in the entrance hall of the Hermes building.
If there are no lessons or exams planned here:
Students who need a computer room can use 5215 & 5219 from 8 am to 6 pm

.

Health care students can go to campus Terranova in room T6100 and T7100 from 9 am to 6 pm.
Where can I eat or take a break between classes? 
In the Break 1119 in the Hermes building: 

Monday to Thursday from 8 am to 9 pm, on Friday from 8 am to 7 pm.  

(if there are no lessons or exams).

Erasmus building: groundfloor from 8 am to 6 pm.
Geen geschikte plek om je online examen af te leggen? 
Heb je geen geschikte plek om thuis je online examen af te leggen? Via STUVO kan je een rustige plek op de campus reserveren. Indien je graag een plek reserveert, neem dan  tijdig contact op met Britt.
Wat geef je door bij je aanvraag via mail: datum en uur van je examen en of je zelf over een laptop beschikt. 
Looking for a weekend or off-campus study place? Take a look at the following pages: 
Op campus Gent kan je doorheen het academiejaar in stilte aan het werk in de bibliotheek. Voor groepswerk kan je naar het Studentenrestaurant of de broodjesbar Rabotaria. 
Bloklocaties januari 2023
Campusbibliotheek 5

0 plaatsen

Beschikbaar v

an 3/01 t.e.m. 3/02 – 8u30 tot 17u

Studentenrestaurant zone 1

120 plaatsen

Beschikbaar van 9/01 t.e.m. 31/01 - 8u30 tot 21u

Opgelet! Gesloten op feest- en brugdagen

Reserveer je plek via deze link
Examenplek nodig?
Ben je thuis niet in de mogelijkheid om je online examen op een rustige manier af te leggen?
Neem contact op met de Sociale Dienst via socialedienstgent@odisee.be
Op campus Dilbeek kan je met vragen over studeerruimtes terecht bij het onthaal van de campus. 
Je kan er in stilte aan het werk in de bibliotheek. Studeerruimtes voor groepswerk of een ruimte voor het volgen van een online les kan je aanvragen bij het onthaal van de campus. 
Op campus Schaarbeek kan je een studeerruimte aanvragen bij het onthaal van de campus. Je kan mailen naar info.schaarbeek@odisee.be voor informatie over de beschikbaarheid van de studeerruimtes op een bepaalde datum.
Op campus Sint-Niklaas kan je op verschillende locaties terecht:
Bibliotheek:

Je kan er werken in het open landschap of gebruik maken van één van de 5 reserveerbare boxen.

Reservatie van deze boxen is mogelijk via deze link. 

Stopcontacten en stroomzuilen zijn beschikbaar.

Restaurant:

Je kan ook aan de slag in het restaurant.

Op het platform zijn extra stopcontacten beschikbaar.

Op de campus zijn verschillende plaatsen in de gang waar studenten kunnen zitten en werken (inclusief voorziening elektriciteit, op twee plaatsen ook met projectiemogelijkheid (beeldschermen))

Moerlandschap:

Hier zijn een 15-tal kleine lokalen die je als student kan reserveren via:

of aan het lokaal zelf via een QR-code.

Stroomzuilen zijn beschikbaar.
Discover the external study locations