Bike facilities in Ghent
When you say Ghent, you say bicycles. The easiest and quickest way to travel to and from campus is probably to cycle. After all, Ghent was named a bicycle city in 2018.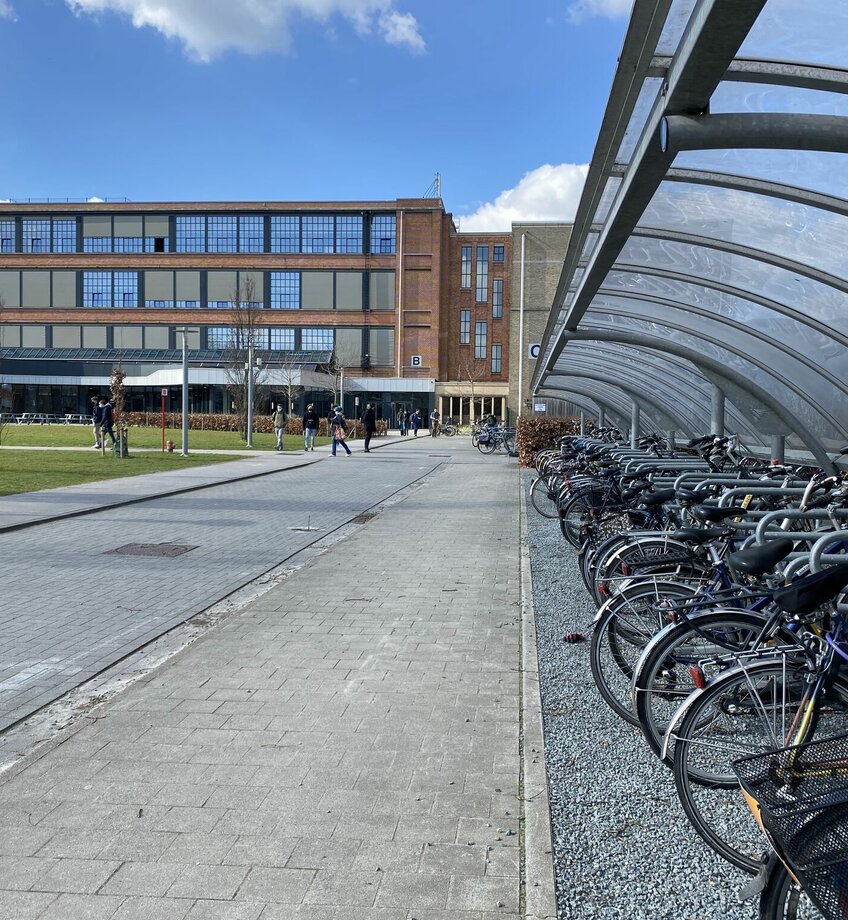 Quickly on your way, thanks to De Fietsambassade
In Ghent, bike rental is arranged in collaboration with De Fietsambassade (Kattenberg 2, Ghent). At this 'bicycle embassy', you can rent a bicycle at student prices. Reserve and pay online and then collect your bike.
Need your bike repaired or maintained? Get your bicycle repaired at an affordable price in one of the bicycle points of De Fietsambassade.
De Fietsambassade also has a vending machine with items that cyclists need. Located in the bicycle park at the Korenmarkt (under the Sint-Michielsbrug bridge). You can buy bicycle lights, raincoats, repair sets, water bottles and touchscreen gloves. Payment is done by card (Bancontact, Maestro, or credit card) or cash. Discover it here!
You'll find more information at www.fietsambassade.gent.be
You can also use the automatic bicycle pumps at any time:
at bicycle point Ghent Sint-Pieters
at bicycle point Kattenberg
at bicycle point Centre
in Korenmarkt bicycle park
Repair your bicycle yourself
There is a Bikerepair on campus. Bikerepair is a high-quality stainless steel bike-repair pole which has been fitted with a unique, vandal-proof and rotating pump mechanism. The bike repair pole has 8 basic tools and a unique rotating bicycle pump. You can find the bicycle repair points near buildings F and P.
You can also buy a bicycle repair kit from STUVO+. For just €5, you will always have a first aid kit to hand!
When the defect is too large
Get your bicycle repaired nearby
Looking for a bicycle repair shop near you? One of the following addresses may be able to help you. Remember that some are quite a bit more expensive than the repair service of De Fietsambassade in Ghent.
Fietskeuken Brugse Poort:

Meibloemstraat 18. Repair it yourself, voluntary contribution, several recycled pieces and small replacement parts available.

Minus One/ Samenlevingsopbouw:

Rabotpark, red-white container. Pay in euros or with Torekes. Repair it yourself and only pay for the parts. Have your bike repaired and you pay a voluntary contribution as well as the cost for parts. (Tues 16.00-19.00, Wed 14.00-17.00, Thurs 12.00-18.00)

Marino:

Hector Van Wittenberghestraat 65 (0478 75 97 65)

De Velomaker:

Rooigemlaan 193 (09 233 45 95)
If you think cycling is a good idea, you should certainly consider this:
Cycling makes you happy. It promotes mental well-being by releasing endorphins and increasing serotonin levels. It is also good for your fitness levels and good for the environment. But sometimes things go wrong with your steel steed... So, here are some more useful tips.
Useful links